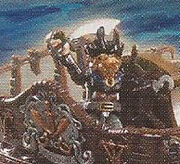 Captain Cutlass



Species

Human

Affiliation

Sea Marauders

Hair Color

Brown

Ship

Stormstalker

Rank/Job

Captain

Status

Alive
Captain Cutlass is a pirate who commands his crew. His left hand is replaced by a hook, has a brown beard, large pirate hat and eye patch. The most known captain in all of pyrates, he is in the stories and movie.
He is also the only marauder captain who comes with the ship, Stormstalker.
In 2.0, he stays exactly the same, having a cutlass and coming with the stormstalker.
The cutlass, his weapon, is most appropriate.
but later on, they used the Captain Cutlass mold for Captain Sabrehook from Pyrates Cove and for Captain Quell from Crew Collection
Cutlass eventually got his revenge on King Midas for killing Blackteeth McBaine.