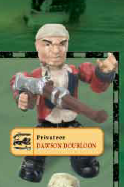 Dawson Doubloon

Species

Human

Affiliation

Privateers

Hair Color

Unknown

Ship

Avenger

Rank/Job

Sergeant

Status

Alive
A member of the Privateers that appears in one the Skull cave set Mutiny Isle, along with his partner Anchor Kreegman and the skeleton enemy Scrapedepth. Doubloon was the Privateer who often gave the worst advice, with Cabot usually being the one to criticise him for it.
Doubloon was among the surviving Privateers to get their split of the treasure, along with Carl Carbunkles, Scabby Buckbeard, Lockpick Cabot, Burt Bounty, Diggers Johansen and Finn Hookswell.
Ad blocker interference detected!
Wikia is a free-to-use site that makes money from advertising. We have a modified experience for viewers using ad blockers

Wikia is not accessible if you've made further modifications. Remove the custom ad blocker rule(s) and the page will load as expected.