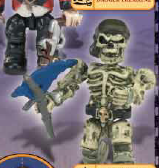 Hatchetfoot

Species

Skeleton

Affiliation

Skeleton Crew

Hair Color

None

Ship

Dread Eye's Phantom

Rank/Job

Assault

Status

Deceased
Hatchetfoot is a skeleton from the Skeleton Crew and he comes in the set Hidden Loot along with the Privateer enemy Daggar Tremaine.
Hatchetfoot was one of the two skeletons, along with Seadaemon, who tried to stop Brine from escaping during his mutiny, and was kicked down throught the hull of the ship.
Ad blocker interference detected!
Wikia is a free-to-use site that makes money from advertising. We have a modified experience for viewers using ad blockers

Wikia is not accessible if you've made further modifications. Remove the custom ad blocker rule(s) and the page will load as expected.