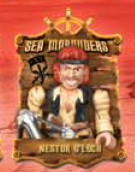 Nestor o' Loch

Species

Human

Affiliation

Sea Marauders

Hair Color

Red

Ship

Stormstalker

Rank/Job

Gunman

Status

Deceased
Nestor o' Loch is a
Sea Marauder
that appears in
Black Sea Battle
.
He was once the Sea Marauders' clown. He was a jolly prankster and a good friend of Hull Gruffery . He later dies after being thrown down the hull of the Phantom and becoming the Lost Soul, Vestige, by the Skeleton,  Barnaclops  during Black Sea Battle .
Ad blocker interference detected!
Wikia is a free-to-use site that makes money from advertising. We have a modified experience for viewers using ad blockers

Wikia is not accessible if you've made further modifications. Remove the custom ad blocker rule(s) and the page will load as expected.