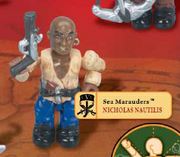 Nicholas Nautilis

Species

Human

Affiliation

Sea Marauders

Hair Color

None

Ship

Stormstalker

Rank/Job

First Mate

Status

Alive
Nicholas Nautilis is a Sea Marauder with a Black Pistol and he appears in the Captain Cutlass Stormstalker set.
He is Captain Cutlass' second in command, alongside Blackteeth McBaine. He became the true first mate when McBaine was killed. He later refused to take part in the second Sea Marauders mutiny.
He seems to be more vicious than the captain himself. His hard, take no prisoners attitude gives him a dangerous reputation. Ten years later, he and Murk Mariner discovered that two skeletons are alive .
Ten years after the Marauders got the treasure of the Lord Pirate , Hautilis start to have a whate bird becouse of age
Ad blocker interference detected!
Wikia is a free-to-use site that makes money from advertising. We have a modified experience for viewers using ad blockers

Wikia is not accessible if you've made further modifications. Remove the custom ad blocker rule(s) and the page will load as expected.