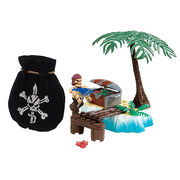 Pieces of Eight

Pieces of Eight Before the Skeleton Takeover
Type
Island
Owner
Skeleton Crew
Sea Marauders (formerly)
Location
Off the coast of Treasure Island
Inhabitants
Sublurken
Snake
Scotty Spitshine (formerly)
Vertibrine (formerly)
Pieces of Eight is an island off the coast of Treasure Island that contains a treasure chest. It was once owned by the Sea Marauders, but has since been taken over by the Skeleton Crew.
Inhabitants
Edit
Snake
Sea Marauders
Edit
Scotty Spitshine (formerly)
Skeleton Crew
Edit
Ad blocker interference detected!
Wikia is a free-to-use site that makes money from advertising. We have a modified experience for viewers using ad blockers

Wikia is not accessible if you've made further modifications. Remove the custom ad blocker rule(s) and the page will load as expected.