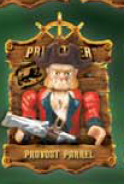 Provost Parel

Species

Human

Affiliation

Privateers

Hair Color

Blonde

Ship

Avenger

Rank/Job

First Mate

Status

Deceased
Provost Parrel is a Privateer with a Brown rifle and comes in the people set Isle of no return with his mate
Jib Hornswaggler
. He and
Carl Carbunkles were
the first mates of the Privateers, and Carbunkles filled in after the death of Admiral Blue Beard, much to Parrel's dismay.
Parrel was the secret orchestrator behind the Triumvirate Treason, and after it failed, he played along until the final battle for the treasure, when he fought Carbunkles. He was eventually killed by Carbunkles and Scabby Buckbeard.
Ad blocker interference detected!
Wikia is a free-to-use site that makes money from advertising. We have a modified experience for viewers using ad blockers

Wikia is not accessible if you've made further modifications. Remove the custom ad blocker rule(s) and the page will load as expected.