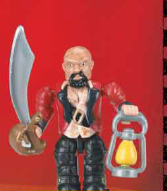 Scabby Buckbeard

Species

Human

Affiliation

Privateers

Hair Color

Black

Ship

Avenger

Rank/Job

Lieutenant

Status

Alive
Scabby Buckbeard is a Privateer that appears in the
Battle for Treasure Island
.
Buckbeard used three weapons: a brown rifle, a cutlass, and a special golden dagger he found in the Lord Pyrate's tomb on Treasure Island.
Buckbeard is a personal friend of Admiral Blue Beard, and took his death rather hard. Ultimately Scabby survived when he aided Carl Carbunkles in defeating the mutineer Provost Parrel. Scabby was one of the eight surviving privateers, along with Carl Carbunkles, Lockpick Cabot, Dawson Doubloon, Finn Hookswell, Burt Bounty, Diggers Johansen, and Stevedore Springfield (who was imprisoned for his part in the Triumvirate Treason).
Also he does a little bit look similar to Braggart T. Doyle (or Jones) and Lockpick Cabot.
Ad blocker interference detected!
Wikia is a free-to-use site that makes money from advertising. We have a modified experience for viewers using ad blockers

Wikia is not accessible if you've made further modifications. Remove the custom ad blocker rule(s) and the page will load as expected.