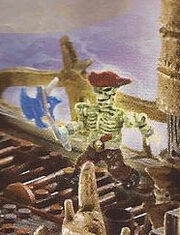 Shoveltooth

'

Species

Skeleton

Affiliation

Skeleton Crew

Hair Color

None

Ship

Dread Eye's Phantom

Rank/Job

First Mate

Status

Deceased

Shoveltooth is part of Dreadeye's Crew. He wears a tricorne hat similar to Dreadeye and Morose. In fact, he shares a mold with Morose, with only colors being changed. He was Dread eye's first mate, until the captain was kidnapped by Cutlass and the Sea Marauders. Then Shoveltooth took over as captain of the Skeleton Crew. Shoveltooth was killed when Dread Eye threw both of them down the Phantom's hull, blowing up the ship. In 2.0, his hat is dark red, not brown.
Set: Dreadeye's Phantom
Weapon: Skeleton axe
Ad blocker interference detected!
Wikia is a free-to-use site that makes money from advertising. We have a modified experience for viewers using ad blockers

Wikia is not accessible if you've made further modifications. Remove the custom ad blocker rule(s) and the page will load as expected.