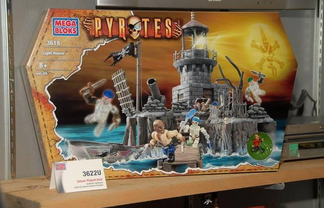 An unreleased set shown on the 4th version of the map. Its a Skeleton Crew owned place. It is not a prototype for the 
Privateers Lighthouse
 because it was shown at the toy fair with it. I believe that this set was a prototype of the Sketeton Crew Prison. I think the ghost looking guys are early 
lost souls
.
It was the main Prison of the Skeletons, where prisoners were taken before their fate was chosen. The Skeletons would consider whether they would be enslaved on board the Phantom, or Pyrate's Cove.
Ad blocker interference detected!
Wikia is a free-to-use site that makes money from advertising. We have a modified experience for viewers using ad blockers

Wikia is not accessible if you've made further modifications. Remove the custom ad blocker rule(s) and the page will load as expected.