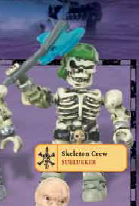 Battle for the Lord Pyrate's TreasureEdit
Sublurker

Species

Skeleton

Affiliation

Skeleton Crew

Hair Color

None

Ship

Dread Eye's Phantom

Rank/Job

Assault

Status

Deceased
Sublurker is a
Skeleton
with a
Skeleton Axe
and that appears in the
Maroon Gally
set, along with his pal
Noricorpse
and the enemy Privateer
Braggart T. Doyle
(aka Braggart T. Jones). His name resembles that of
Sublurken
, who comes with the
2.0
version of
Pieces of Eight
. Sublurker was killed by Dread Eye when the skeleton Captain fed him, Noricorpse and Fathom to the Phantom for questioning his authority.
The Treasure of PerditionEdit
Sublurker, like Noricorpse and Fathom, resurfaced from the depths in this film. He was revived by the captain of the depths, Davy Jones. Scrapedepth apologized to the three for his betrayl to them and promoted Sublurker to weapons master. He soon took to his new position on the new Phantom. To be continued...
By - Captain Dread
Ad blocker interference detected!
Wikia is a free-to-use site that makes money from advertising. We have a modified experience for viewers using ad blockers

Wikia is not accessible if you've made further modifications. Remove the custom ad blocker rule(s) and the page will load as expected.