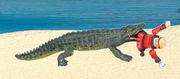 Theodore Twosails

Species

Human

Affiliation

Privateers

Hair Color

None

Ship

Avenger

Rank/Job

Lieutenant

Status

Deceased
Theodore Twosails is a Privateer with a Hook, a peg-leg, and a spear. He appears in the Fort Defiance set. He is one of the only two Privateers that has unique coat, the other being Admiral Bluebeard. Twosails was a war veteran, who stood at the rank of Commodore due to his experience dealing with Pirates and his participation in the
Battle of Rummage Island
, where he cut off the leg of
Captain Quell
.
Twosails didn't join the war until shortly after the Lighthouse Sea Battle, when he delivered the Privateers their new ship and decoded the message on the wall of the Lighthouse. Twosails was killed by William Blackeye during the brief Privateer attack on Fort Defiance, then his body was eaten by a crocodile.
Ad blocker interference detected!
Wikia is a free-to-use site that makes money from advertising. We have a modified experience for viewers using ad blockers

Wikia is not accessible if you've made further modifications. Remove the custom ad blocker rule(s) and the page will load as expected.