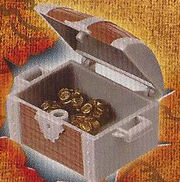 It was said that the ultimate Treasure of the Lord Pyrate contained many treasure chests, similar to the one on the right. Almost every set comes with one of these, filled with a few coins each. They fit nicely in one of the caves on Smuggler's Fort, and they also fit in the below-deck compartments of the three ships. Coins vary from little clusters of gold or silver, or yellow, blue, green, and red jewels. Shark Escape has studs painted gold and silver to resemble coins.&nbsp
Ad blocker interference detected!
Wikia is a free-to-use site that makes money from advertising. We have a modified experience for viewers using ad blockers

Wikia is not accessible if you've made further modifications. Remove the custom ad blocker rule(s) and the page will load as expected.